Are you looking for the best selling Sulwhasoo products? Here are detailed reviews of the best Sulwhasoo products for you! Check it out!
A few examples of Korea's influence on the world would be its entertainment scene, food culture, and the 10-step skincare routine. I would be lying if I said the last bit hasn't pushed me to seek out newer brands and trends in K-Beauty! 
Whether you're a fan of minimalistic regimens or enjoy a full-fledged one, Korean brands have got you covered. The same goes for people that love indulging in luxury or prefer to skimp out on affordable options. 
My focus today is on Sulwhasoo, a leading pioneer of Korean skincare. Albeit on the high-end side of the spectrum, this brand's results will leave you awestruck. 
Below, I have reviewed 2 of Sulwhasoo's bestsellers, allowing you a deeper look into how they have the potential to transform the skin. You can also turn to them to curate your very own regimen or pick out the products you believe will benefit you the most. 
Quick Glance: Best Sulwhasoo Products
How I Tested The Best Sulwhasoo Products
To ensure that a product does what it claims to, I tested it on myself and used a couple parameters to judge it. After that, I gave each a custom rating depending on how it suited my skin. 
Effectiveness: How well does a product perform based on its claims? This would reflect in the power of the cleanser and the benefits of the serum mentioned below. 
Consistency: The consistency of any beauty product is an important feature as it helps you gauge whether it suits a certain skin type or not. Some are lightweight and some heavy, both suiting various skin types and not others. 
Scent: As Sulwhasoo is famous for its unique medicinal fragrance, this parameter was important. Some skin types like sensitive ones don't react well to any fragrance and this would be the deal breaker in them selecting their products. 
What's All The Hype Around Sulwhasoo?
Sure, there are a ton of luxury beauty brands on the market, but what sets them apart from Sulwhasoo? The high-end Korean brand is supported by over 50 years of innovation and research in the field of ancient Asian herbs, specifically ginseng, in beauty. 
It is this amalgamation of science with holistic skincare ingredients that renders Sulwhasoo to stand apart from the crowd. 
Not only are their formulas effective at delivering what they claim to, but the natural scent they give off comes like a pleasant surprise. Traditional herbs, plant extracts, and other elements occurring in nature are blended expertly to give the skin a boost of both health and radiance.  
About the Sulwhasoo brand
Sulwhasoo is a Korean luxury beauty brand that takes pride in the fusion of traditional Korean herbal medicine and modern science.
Their products are known for being innovative, premium quality, and effective. Sulwhasoo has been in the beauty industry for over 50 years and has successfully established a global presence. The brand's philosophy is centered on the belief that beauty starts with the balance and harmony of the mind and body.
They aim to create products that bring out one's inner beauty and radiance. Sulwhasoo's main ingredient is ginseng, an herb that has been used in Korean traditional medicine for thousands of years. Ginseng is known for its rejuvenating and revitalizing properties that effectively nourish and enhance the skin's youthfulness.
Sulwhasoo has a wide range of skincare and makeup products that cater to different skincare concerns such as anti-aging, hydration, and brightening. They offer cleansers, toners, serums, moisturizers, masks, and more that work harmoniously to achieve optimal results.
The brand's packaging and design reflect their traditional roots and modern approach. The products are housed in elegant and minimalistic containers that reflect Korean aesthetics. Sulwhasoo's commitment to sustainability is also evident in their use of eco-friendly materials and their adherence to ethical standards.
In summary, Sulwhasoo is a brand that epitomizes the harmony of traditional Korean herbal medicine and modern science. Their use of ginseng and other natural ingredients, combined with their emphasis on balance and harmony, make them a unique and effective brand in the beauty industry.
Key Ingredients in Sulwhasoo Skincare Products
Sulwhasoo is a high-end Korean skincare brand that has been around for decades. They are known for their luxurious and effective products that are formulated with traditional Korean herbal ingredients.
These ingredients are carefully selected for their unique benefits and properties, and have been used for centuries in Korean medicine.
One of the key ingredients in Sulwhasoo skincare products is ginseng. Ginseng is a powerful antioxidant that helps to protect the skin from environmental stressors such as pollution and UV rays. It also has anti-inflammatory properties that can help to soothe and calm irritated skin.
Sulwhasoo uses a specific variety of ginseng called Korean red ginseng, which is known for its potency and efficacy. Another important ingredient in Sulwhasoo products is lotus flower. Lotus flower extract is rich in antioxidants, which help to prevent premature aging and damage to the skin.
It also has hydrating properties that help to plump and firm the skin, giving it a youthful glow. Sulwhasoo also uses white pine extract in their products.
White pine extract is a natural skin brightener that helps to even out skin tone and improve the overall appearance of the skin. It is also rich in antioxidants and has powerful anti-inflammatory properties that can help to soothe and calm the skin.
Overall, the key ingredients in Sulwhasoo skincare products are carefully chosen for their unique benefits and properties. They work together to create a luxurious and effective skincare experience that can help to improve the health and appearance of the skin.
How To Choose Sulwhasoo Products
As Sulwhasoo has a wide range of products, you're bound to find something for your skin type. Toners that are lightweight are great for oily skin and make for the ideal first step if your skin is on the dry side. 
Serums, moisturizing creams, and sleeping masks are the perfect addition to your routine during the winters or when your skin is feeling extra parched. They also have a clarifying mask that suits oily and acne-prone skin. 
Depending on the state of your skin, reach out for a product that corresponds to the issue at hand. Sulwhasoo is an expert at anti-aging skincare, so if you're looking to avoid premature signs of aging, indulge in their creams and serums. To repair a broken moisture barrier in dry skin, Sulwhasoo's serums work like magic.
You can also top this off with a sleeping mask for overnight repair. If you struggle with oily and acne-prone skin, try their gel cleansers, water toners, and clarifying masks. 
Best Sulwhasoo Products 2023
Sulwhasoo Gentle Cleansing Foam
Be it at the start of the day or its end, cleansing is often the first step of my regimen. And what better way to kickstart it than with Sulwhasoo's crowd-favorite nutrient-rich formula? The Gentle Cleansing Foam has a gel base and works like a charm at dispelling all dirt and makeup. Its gel nature really suits my oily skin.  
What I also like about it is that it's perfect at gently waking you up rather than jerking you awake unlike some harsh cleansers out there. 
Sulwhasoo's foam cleanser is enriched with botanical elements such as chestnut shell, duckweed, and citrus peel. While these ingredients work to extract all unpleasant grime from your pores, they also left my skin feeling cushiony-soft. The citrus is known to brighten skin tone, but I suppose this is a gradual effect of using this cleanser.
It lathers up generously but doesn't leave my skin feeling all tight and stripped off. The lavender-musk scent is a bonus too, as it's not too harsh or strong. I believe this fragrance also has relaxing properties owing to the lavender because boy do I feel ready for bed each night! 
I have noticed my skin feeling smoother after a wash despite wearing makeup. Definitely adding this one to my regular routine! 
If you have dry, sensitive, or acne-prone skin, I would recommend exercising caution. Apart from being a new product, the formula might cause a tight feeling or induce flare-ups. Patch testing is the way to go!
Pros
Gentle and non-stripping
Removes all oil and dirt effectively
Rich lather
Dissolves immediately
Leaves skin feeling soft
Pleasant scent
Cons
Might be stripping for dry skin types or during the winters
Sensitive skin types might face inflammation or redness
My Rating:
Effectiveness: 4.5/5
Consistency: 5/5
Scent: 5/5
Sulwhasoo First Care Activating Serum
If I had a dollar for every time someone mentioned this serum, I'd be a millionaire (and could probably afford it more often!). Undoubtedly Sulwhasoo's most sought-after product, I did find the First Care Activating Serum to nourish my skin. This makes for a great step after your skin is freshly cleansed, as it prevents any moisture loss or drying. I sometimes skip a toner and jump right onto this step. 
Sulwhasoo's iconic formula blends 5 herbs in its JAJUM Activator: lotus, peony, white lily, Solomon's seal, and rehmannia. Each ingredient claims to pull its weight to help reduce wrinkles, improve skin translucency, and increase firmness. 
I have seen my skin's elasticity levels going up a tiny bit! I'm sure that with gradual use this can prove to be my fountain of youth. If your skin's been displaying some sallowness, this serum can help bring back a little body too. 
As this potion is formulated for all skin types, I'm sure you can notice a difference with use. Along with the anti-aging benefits it claims to offer, I've noticed a constant dewy glow as well. 
This is thanks to its barrier-repairing properties, and the immense hydration it gives my skin. It's a tad bit heavy in consistency, though, so it's better off being a part of your PM routine. 
If aging skin is one of your top concerns or if you'd like to prevent premature signs of aging, this serum is about to become your new best friend. I'm not troubled by aging yet but I know prevention is  the best cure, so you best believe I'm going to start using this bad boy ASAP.
The pleasant floral fragrance this product gives off is bound to make your routine even more comforting. I'm not a fan of beauty products that contain scents but I feel like Sulwhasoo sort of does it right. And despite the high price point, a little bit of this serum goes a long way, and I'm not complaining. 
Pros
Paraben-free
Increases absorption of other products
Prevents moisture loss
Can be layered with other products
Pleasant and clean fragrance
Non-irritating
Cons
Has a very sticky consistency
My Rating:
Moisturization: 4.5/5
Scent: 4.5/5
Consistency: 3/5
Sulwhasoo Overnight Vitalizing Mask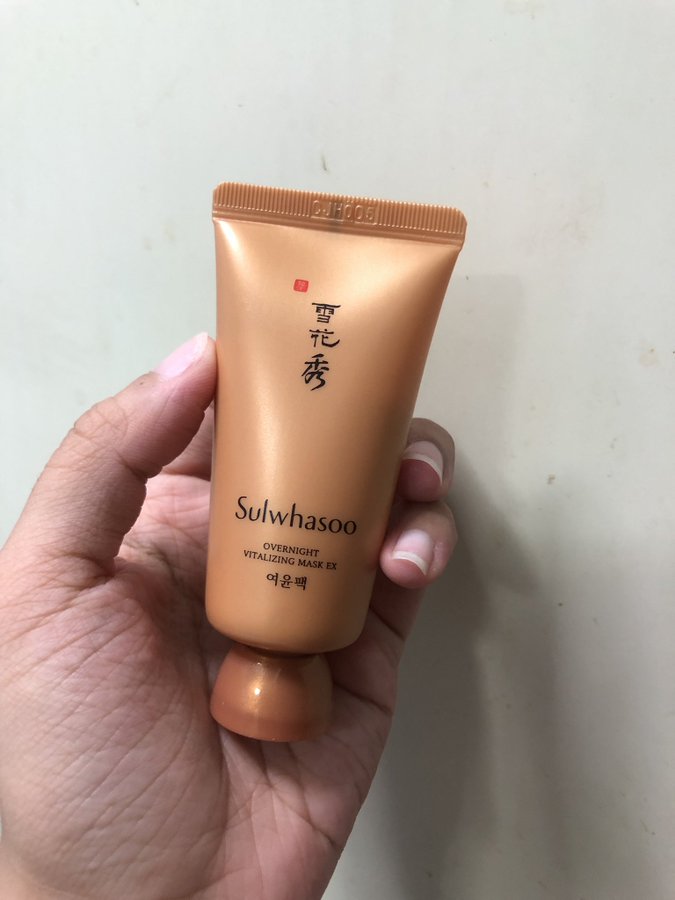 I was thoroughly impressed with the Sulwhasoo Overnight Vitalizing Mask. From the moment I applied it to my skin, I could feel its invigorating effects.
The thick, cream-like consistency of this mask worked wonders, delivering deep hydration and nourishment throughout the night.
What I loved most about this product was that it didn't feel greasy or heavy on my skin. Instead, it felt light and breathable – something that's especially important for those of us with oily or combination skin types. Even after waking up the next morning, my skin felt soft, smooth, and intensely moisturized.
I was also impressed by the mask's ability to brighten my complexion. The formula contains a blend of natural ingredients, including Korean medicinal herbs, that work together to enhance skin radiance. This, combined with the nourishing effects of the mask, made my skin look more youthful and refreshed.
Overall, I highly recommend the Sulwhasoo Overnight Vitalizing Mask to anyone looking for an effective, high-quality skincare product. Whether you're struggling with dryness, dullness, or signs of aging, this mask has all the ingredients you need to revive and rejuvenate your skin. Trust me, your skin will thank you!
Sulwhasoo Concentrated Ginseng Renewing Emulsion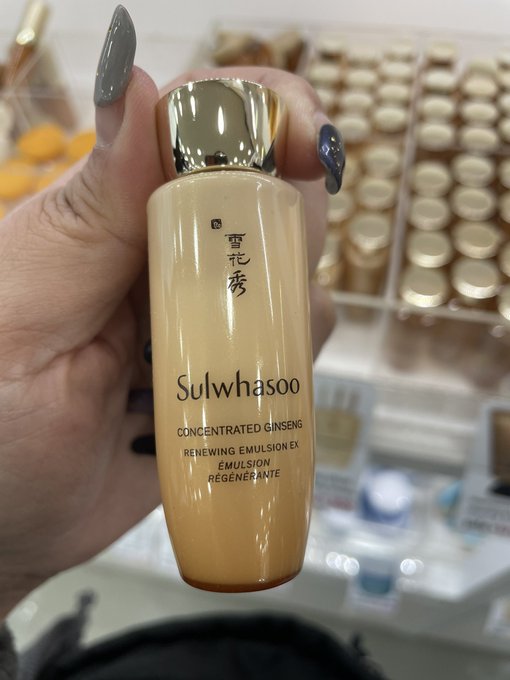 If you're looking for a product that will keep your skin looking youthful, then the Sulwhasoo Concentrated Ginseng Renewing Emulsion is worth trying.
I have been using this product for the past month and I am thoroughly impressed with the results. First and foremost, the texture of the emulsion is lightweight and absorbent. It leaves my skin feeling soft and supple without any sticky residue. It has a subtle herbal scent that is both invigorating and calming at the same time.
The emulsion contains a blend of botanical ingredients including ginseng, jojoba oil, and hyaluronic acid. Ginseng is known for its anti-aging properties, while jojoba oil and hyaluronic acid help to retain moisture in the skin.
After using this emulsion, I noticed a significant improvement in the texture and brightness of my skin.
My complexion appeared more even and I noticed a reduction in the appearance of fine lines around my eyes. Overall, I highly recommend the Sulwhasoo Concentrated Ginseng Renewing Emulsion to anyone looking for a luxurious skincare product that delivers visible results.
It may be a bit pricey, but a little goes a long way, making it a worthy investment for those who prioritize their skin's health and beauty.
Sulwhasoo Essential Firming Cream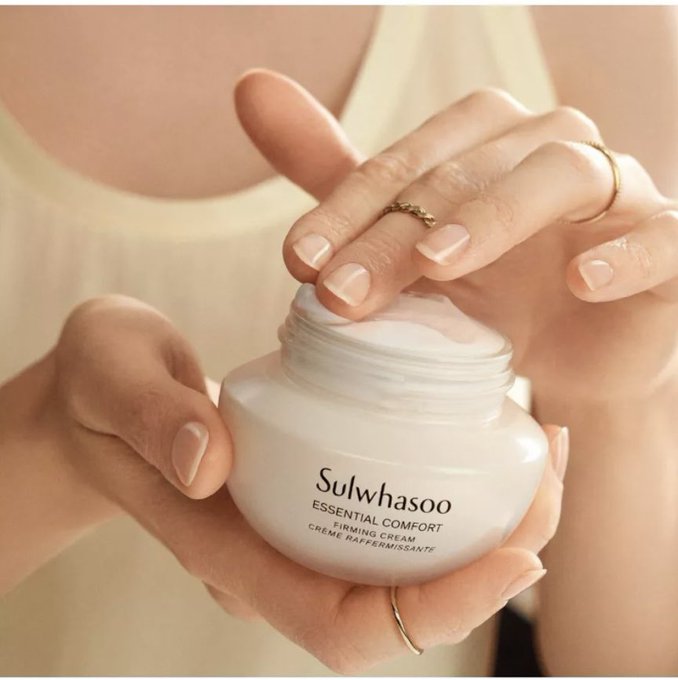 After trying out several Sulwhasoo products, I must say that the Essential Firming Cream has become one of my favorites. This cream has been a game-changer in my skincare routine, leaving my skin feeling nourished and rejuvenated.
The texture of this cream is thick and luxurious, but it absorbs quickly into the skin without leaving any greasy residue.
I love that it has a pleasant herbal scent, which just adds to the luxurious experience. I also noticed that my skin felt firmer and more elastic after using this cream consistently for a week.
One of the main ingredients in this cream is the Korean Red Pine which promotes skin elasticity and improves skin texture. I have noticed visible improvements in my skin's texture, and it feels smoother and more supple.
It also has a brightening effect, leaving my complexion looking more radiant. One interesting thing about this cream is that it comes with a tool called the "Essential Firming Cream Hydro-Aid Moisturizing Soothing Mist" that can be used in conjunction with the cream.
This mist helps to enhance the cream's absorption and provide extra hydration to the skin.
Overall, I would highly recommend the Sulwhasoo Essential Firming Cream to anyone who is looking for a luxurious, moisturizing cream that can help improve skin texture and firmness. It may come with a higher price tag, but the results are worth it!
Sulwhasoo Products: FAQs
How good are Sulwhasoo products?
Sulwhasoo products suit almost every skin type, and they deliver hydration to balance your barrier. As they incorporate medicinal herbs, they deliver nourishment right from nature. Formulated cruelty-free, this brand is also great for the environment. 
What is Sulwhasoo famous for?
Sulwhasoo is widely known for extensive research on ginseng, spanning over 50 years. Additionally, their products are believed to be top-notch in imparting anti-aging benefits to the skin. 
What order do you use with Sulwhasoo products?
A tip that many estheticians swear by is to layer products in order of their thickness. After you cleanse the skin, start off with a toner, then apply a serum or essence, and follow up with a moisturizer. If it's nighttime, you can use a sleeping mask as the final step after using an eye cream. 
I agree that Sulwhasoo isn't for everyone. But behind its classy minimalistic packaging and fancy product names lie formulas that actually address the skin and its concerns. For when you want to treat yourself or a loved one, I'd definitely recommend you try this pioneer in Korean beauty. 
Also Read
Why You Should Trust BestKoreanProducts?
All our editors including the author of this article, Jih Yun do extensive research on the products reviewed and recommended in the article. We also use these products ourself to give you accurate, first hand information without any prejudice or bias. BestKoreanproducts has also got a team of medical reviewers and skincare experts to help give accurate advice and provide research-based facts concerning a product, its formulation or ingredients.
---
My goal is to showcase the creativity and awesomeness of Korea and Korean products. I'm the head writer at bestkoreanproducts.com!
Sulwhasoo Gentle Cleansing Foam
Here are the best sulwhasoo products for you. Check it out!
Product SKU: 0992315THG18934
Product Brand: Sulwhasoo
Product Currency: USD
Product Price: 89.00
Price Valid Until: 2024-06-01
Product In-Stock: InStock